Posted under:
General
Posted on: July 7, 2022
Basic Dental Care in Voorhees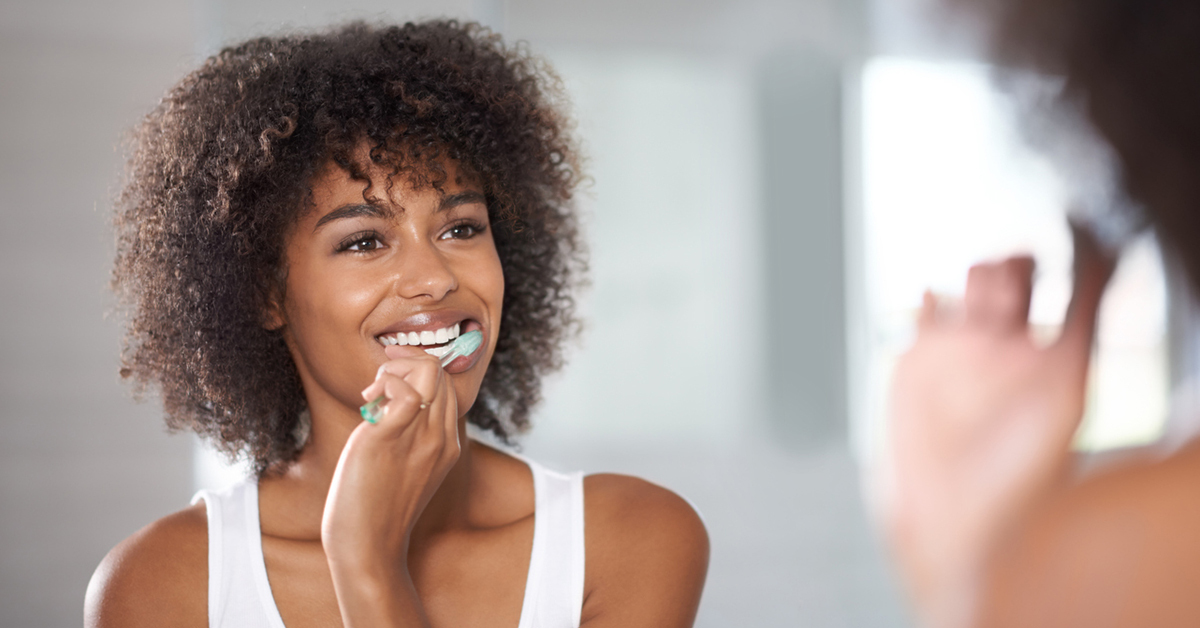 If your teeth and gums are healthy, you'll have better overall health than if your teeth and gums are infected, decayed, or diseased. Although this may seem obvious, many people put their dental visits at the bottom of their list of things to do. However, research has shown a correlation between dental problems and major diseases such as strokes, heart attacks, dementia, and more. So, for the healthiest body, make sure your mouth is healthy. If you need to schedule a dental appointment, call our Voorhees office, and we can help you.
What Is Good Dental Hygiene?
Good oral hygiene means engaging in practices that will keep your teeth and gums in good health and free of disease and infection. A regimen of good oral hygiene includes:
Brushing at least twice each day, especially right before you go to bed
Flossing at least once daily, especially just before you go to bed
Using a fluoridated toothpaste
Getting dental exams and cleanings at least annually
Using an antibacterial mouthwash at least once daily
Buying only toothpaste, toothbrushes, and mouthwash that carry the ADA Seal of Acceptance
The American Dental Association has additional recommendations on their website that may improve your current oral hygiene routine and make you proud of your beautiful teeth.
Click HERE to schedule a dental appointment for an exam and teeth cleaning.
Other basic dental care tips include:
After you brush and floss at night, don't consume anything else except clear water.
When you get up in the morning, brush your teeth before you eat or drink anything. This will avoid transferring the bacteria in your mouth to your stomach, where it will be digested and absorbed along with your food.
If you floss only once each day, then floss just before bedtime. This way, food particles that may be lodged between your teeth don't have all night to start attacking and eroding your tooth enamel.
During the day, if you can't brush and floss after each snack or meal, rinse your mouth well with clear water. This will help deter the accumulation of bacteria and the formation of plaque.
Brushing Twice Each Day
For the most successful oral hygiene program, you should brush a minimum of twice each day. Make sure you brush correctly and use the proper toothbrush. Usually, dentists recommend a soft-bristled brush that carries the ADA Seal of Approval, so use one of those unless your dentist has specifically recommended otherwise.
When you brush, use gentle pressure in a circular pattern with a back-and-forth motion. Brush for 30 seconds each on the upper and lower teeth on each side, so you should brush for at least two full minutes. Adequate brushing techniques are excellent for deterring the formation of plaque, cavities, and gingivitis. Don't forget to brush your tongue as well, since it can harbor bacteria even if you brush and floss your teeth.
The Best Toothbrush
As long as your toothbrush meets the standards set by the ADA and your dentist's recommendations, it doesn't matter the type you use. Some people prefer manual toothbrushes, while others prefer electric toothbrushes. Make sure it has soft bristles. Those with different length bristles are most effective at reaching between teeth. Change your toothbrush whenever the bristles begin to fray or splay or if you've been sick.
If you have more questions, give us a call. Proper and adequate brushing is more important than the specific design of your toothbrush, so make sure you brush at least twice each day.
Fluoride Toothpaste
Most toothpaste contains fluoride, which is a naturally-occurring mineral that helps fight cavities and makes your tooth enamel stronger. Most municipalities fluoridate their water supply. However, you should't be concerned about getting too much fluoride. City water is usually fluoridated to the minimum standard, so it's unlikely that you'll ingest too much fluoride. If you have questions, ask your dentist.
Flossing Is Essential to good Basic Dental Care
In addition to regular brushing, regular flossing is essential for good oral health. Ideally, you should brush and floss after each meal or snack, but practically, that's not always possible. If you can't brush or floss after eating, rinse your mouth well with clear water.
When you brush and floss, it really doesn't matter which comes first. Some people prefer to brush then floss. Others prefer to floss then brush. The important thing is that you brush and floss. Also, it doesn't matter which type of floss you use. Whether it's traditional dental floss, a water flosser, dental picks, or another type, you'll get the same results.
More Dental Care Basics
Mouthwash is an excellent addition to your daily oral hygiene program. Make sure the mouthwash carries the ADA Seal of Acceptance. Antibacterial mouthwash can eliminate residual bacteria that may remain after brushing and flossing as well as any bacteria on your tongue.
Your diet can help control your oral health also. For example, snacking on fresh fruits and vegetables is a good way to clean your teeth of food particles, and drinking plain water is better for you than sugary drinks and sodas.
Carrying a travel-sized toothbrush and toothpaste enables you to brush and floss when you're on the go. As a result, you needn't worry about your oral health when you're proactively prepared for your day.
How Do My Dental Habits Impact My Overall Health?
Research has shown a correlation between good oral health and good overall health, so for the best physical health, you need good oral health. Gum disease, decay, cavities, and plaque have been linked to higher incidences of serious diseases such as heart attacks, strokes, dementia, diabetes, and more.
Your Voorhees Dentist Is Your Strongest Ally
Your dentist is your best ally in your efforts to have a healthy mouth. When you have a history with a dentist, they can spot issues while they're minor and treat them before they escalate. With the rise in the incidence of oral cancer, we recommend that all our patients get an oral cancer screening if they're age 18 or older. Oral cancer is insidious and usually presents asymptomatically, so don't wait to get screened. It's a painless procedure that we typically do during your annual exam. Oral cancer now accounts for more than three percent of all new cancers, and if you smoke or drink, your risk factor is even higher, so call us to schedule a screening.
We realize that everyone is very busy, and life is very hectic. However, it's important that you have at least annual dental checkups and teeth cleanings. Semi-annual is better. If you haven't had a checkup recently or you haven't had an oral cancer screening, then call Dental Arts of South Jersey at (856) 324-3361, and we can help you. No dental issue is too big or too small, so call us today for all your dental care needs.
We look forward to speaking with you.