Posted under:
General
Posted on: October 2, 2022
Celebrate Dental Hygiene Month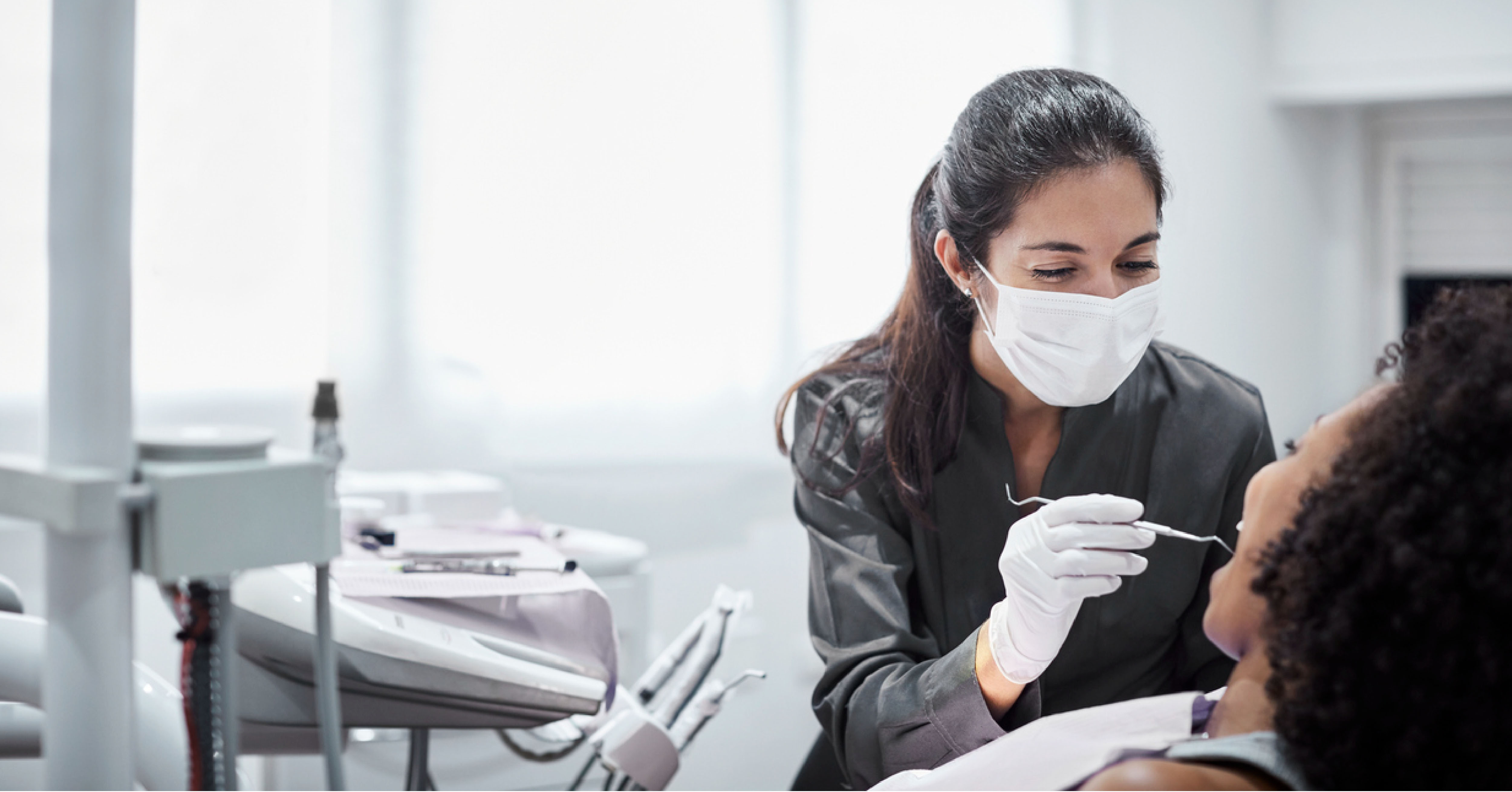 As dentists and dental hygienists, we enjoy celebrating National Dental Hygiene Month. Dental hygiene is extremely important to anyone who wants a pain-free, attractive smile. It promotes fewer cavities, reduces your risk of gum disease, and is beneficial to your overall health. If you want to keep your teeth for life, it is essential to take good care of your teeth during your lifetime. October is the best time for National Dental Hygiene Month when candy is so prevalent.
You can celebrate by making an appointment with our dental office today!
What Types of Work Do Dental Hygienists Do?
Dental hygienists are often the first person you see when you come in for a routine exam. Getting a professional teeth cleaning is an important part of the preventative dental care our dentist in Voorhees recommends. Even a person who is meticulous about their at home dental care can miss spots. You'll receive a thorough cleaning that includes scraping off any tartar you have, a polishing to get rid of minor staining, and a professional flossing.
Dental hygienists do more than clean teeth, though. They educate patients about proper dental hygiene, show them how to floss properly, and make suggestions for products that make dental care easier. They also look for any issues in your mouth, like an early sign of oral cancer, so they can alert the dentist. Hygienists can also take x-rays and perform cavity prevention treatments, like applying fluoride and sealants.
Why is Dental Hygiene So Important That it Deserves its Own Holiday?
Good dental hygiene helps prevent painful and costly dental issues, such as decay and gum disease. It can also prevent tooth loss. These are significant reasons to celebrate Dental Hygiene Month with a professional teeth cleaning and routine checkup.
What Are Good Toothbrushing Habits?
Brushing correctly will improve the effectiveness of your oral care routine. Most people know to brush twice a day for two minutes, but many underestimate how long they actually spend brushing. Using an egg timer or an app on your phone will help you get used to judging how long two minutes actually are. Some electric toothbrushes have convenient two-minute timers.
Using a toothbrush with soft bristles is your best option. Make gentle circular motions with the brush, cleaning the front, back, and chewing surfaces of every tooth. Don't press too hard. The soft bristles can get into nooks and crannies, but not if you smash them down. If the bristles are bending, you're brushing too hard.
Always use fluoride toothpaste. Once you brush, don't rinse. If you spit out the remaining toothpaste, some of the fluoride will remain on your teeth, providing extra cavity protection. If you're concerned about getting too much fluoride, talk to your dentist about your concerns. There are many articles online, usually published by companies that sell natural toothpastes about the harm fluoride can cause, but dentists, the ADA and dental hygienists know how valuable is in preventing tooth decay.
Replace your toothbrush every three months. Rinse it off with hot water before and after every use. Let your toothbrush stand upright so it dries completely between uses. If you're ill, throw your toothbrush away and use disposable toothbrushes until you're better and can get a new toothbrush.
Electric toothbrushes work just as well, if not better, than manual toothbrushes. If your teeth don't feel clean after brushing with a manual toothbrush, consider investing in an electric one with the ADA Seal of Acceptance. If you have a child over age six who does not like brushing, they may find an age-specific electric toothbrush more fun to use.
How to Floss Correctly
Flossing is essential for your dental health. Brushing your teeth is not enough. Your toothbrush can't reach between your teeth. In fact, half of the cavities people get develop between their teeth. If you choose to use string floss:
1. Take about 18 inches of floss and wind it around the middle fingers of each hand.
2. Take about an inch of floss and hold it between your thumb and index fingers.
3. Glide the floss between your teeth, gently covering the gumline as well.
4. Use fresh floss for between each tooth.
You can use either waxed or unwaxed dental floss. Waxed floss is easier to glide between your teeth and less likely to break. Additionally, you can usually get waxed dental floss in different flavors.
If you find it difficult to use string floss, try a water flosser or one of the other alternatives, such as a pre-threaded flosser or an interdental brush. You're probably already familiar with air or water flossers if you've ever had braces, or have a crown, implant, or bridgework. It's not important what you use, as long as you floss each day.
What Can Mouthwash Do for Me?
Certain mouthwashes are therapeutic, as opposed to just giving you fresh breath. Ask your dental hygienist for a recommendation for a mouthwash that can kill bacteria or one that contains fluoride. Mouthwashes that fight bacteria can reduce plaque and fight gingivitis, besides freshening your breath. Mouthwashes containing fluoride can strengthen your tooth enamel against decay.
Chew Sugarless Gum
If you're on the go all day and can't brush after lunch, try chewing sugarless gum after a meal. Chewing a piece of sugarless gum increases saliva production, which helps wash away plaque. It's easy to keep with you and refreshes your breath at the same time. Chew right after eating or drinking a beverage with sugar.
This October, buy yourself some sugarless gum to celebrate Dental Hygiene Month.
What Else Can I Do for My Dental Health?
You can celebrate all year long, and for the rest of your life, by visiting your dentist in Voorhees for regular checkups and teeth cleanings. What you do at home to take care of your teeth and gums is absolutely essential. Let your dentist and dental hygienist do their part. Together, we can make a super team.
This October, celebrate Dental Hygiene Month in Voorhees with an exam and teeth cleaning at our dental office in Voorhees.