Posted under:
General
Posted on: August 31, 2022
National Gum Care Month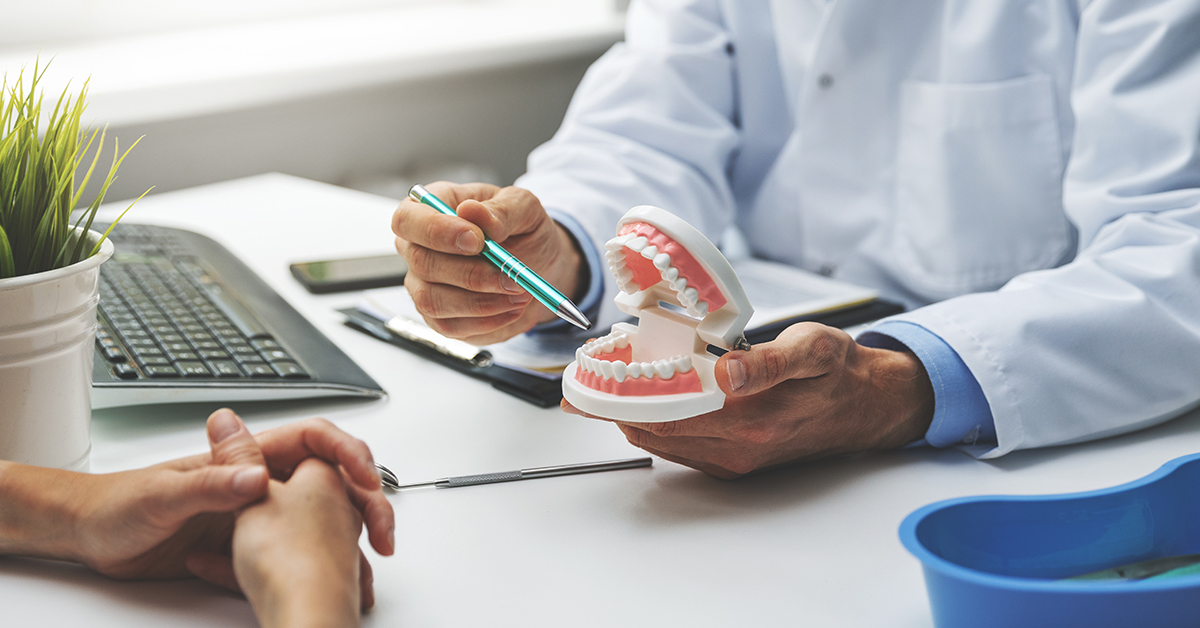 What does it take to keep your mouth clean and healthy? Keeping your smile bright and beautiful for years to come involves more than just brushing your teeth. It also involves taking great care of your gums. However, many individuals don't give their gums the proper care that they deserve. This is a growing problem that dentists have been trying to fix for years.
To remind people of how important gum health is, September is officially known as National Gum Care Month. The goal is to reiterate to everyone the importance of taking care of their gums. While taking care of your gums starts at home, it's not something that you can do alone. You also have to visit your dentist on a regular basis to ensure that your cleaning technique is up to par.
The Problems That Develop From Improper Gum Care
You may know that taking care of your gums is important, but just how important is it? The truth is that failure to care for your gums properly can lead to a number of problems, most notably periodontal disease.
Many people know periodontal disease better as gum disease. Regardless of what you call it, this disease opens the door to a number of health-related issues, including issues that don't necessarily have to do with your oral health. For example, people with gum disease are more prone to heart disease, stroke and diabetes.
Unfortunately, the bad news doesn't stop there. Studies also show that gum disease is the leading cause of all tooth loss in adults over the age of 35. This alone should be reason enough to give your gums proper care.
Proper Gum Care
Now that you know how important your gums are, you may be wondering how you care for them properly. In reality, proper gum care starts with good oral hygiene in general. This entails flossing every day, brushing your teeth at least twice a day, and visiting your dentist regularly.
Keep in mind that the toothbrush you choose is important as well. You want to choose a toothbrush that features soft bristles. Also, make sure that the bristles vary in length to ensure a proper cleaning. It's important that you change your toothbrush every three months too.
However, proper gum care isn't something that you can do alone. You do need to visit your dentist at least twice a year. Going twice a year helps prevent gum disease from progressing too far. Remember that the longer gum disease is left untreated, the harder it becomes to fight.
Ready for the cleaning and checkup you've been putting off? Call our office today to schedule your appointment.
Gum Disease Signs to Look For
Knowing the signs of gum disease is important. It can help you spot gum disease early, which allows you to get treatment before it progresses. In fact, that's why learning about the symptoms of gum disease is an important part of National Gum Care Month.
The first sign that most people notice is swollen or red gums. Sometimes, sensitivity accompanies gum disease, but that doesn't always happen until a later stage of gum disease.
Another common warning sign is bleeding when brushing or flossing. Once again, the bleeding might not be accompanied by any pain. That being said, you might notice that you have bad breath even after completing your oral hygiene routine.
A more advanced sign would be your gums pulling back from the base of your teeth. This can cause your teeth to become loose. If left untreated, your gums can even become infected with visible pus.
The Stages of Gum Disease
Now that you know some warning signs to look for, let's dive a bit deeper into the stages of gum disease and what to expect with each stage. Most dentists agree that there are three main stages of gum disease.
Gingivitis
The first and most common stage of gum disease is gingivitis. Typically, this stage of gum disease starts after bacteria and food particles stick to your teeth because of improper cleaning. Eventually, this gives way to plaque, which hardens to form tartar. As tartar hardens, it starts to irritate the gums.
Typically, you won't experience any kind of pain with gingivitis. That said, experiencing some bleeding when flossing or brushing the area that has gingivitis is common.
Periodontitis
The next stage of gum disease is known as periodontitis. This is what develops when you ignore the signs of gingivitis and don't visit your dentist. With periodontitis, pockets start to form under your gums. The major concern here is that more bacteria and food can get caught in these pockets, which can lead to even more plaque and tartar buildup.
If left untreated, the gums can become infected, which can lead to the damage of bone and supporting tissues. At this stage, treatment typically involves antibiotics, professional scaling and maybe root planning.
Advanced Periodontitis
What if you don't get treatment for periodontitis? This is when gum disease advances to the third stage: advanced periodontitis. It's during this stage that permanent damage can be done to bones and supportive tissues. Treatment at this point is much more extreme, typically requiring oral surgery.
You Can't Do It Alone
Proper oral hygiene definitely starts at home. However, you can't do it all on your own. You also have to make sure that you are visiting your Voorhees dentist at least twice a year. During these checkups, your dentist will clean your teeth and look for signs of gum disease.
Remember that gum disease is preventable. Take the information you learn from National Gum Care Month, and put it to use. Let's be proactive in lowering the number of people who struggle with gum disease.
Finding a Voorhees Dentist Who Can Help
Now that you know how important oral hygiene is and how important it is to find a good dentist, you may find yourself looking for a Voorhees dentist. If you are, then look no further. We provide a number of dental services, including treating and preventing gum disease.
Don't wait for your gum disease to get worse. Get the treatment you need now to keep the later stages of gum disease at bay. Reach out to us today to schedule an appointment.