Posted under:
General
Posted on: August 16, 2023
Ready to Quit Tobacco? Let Dental Arts of South Jersey Help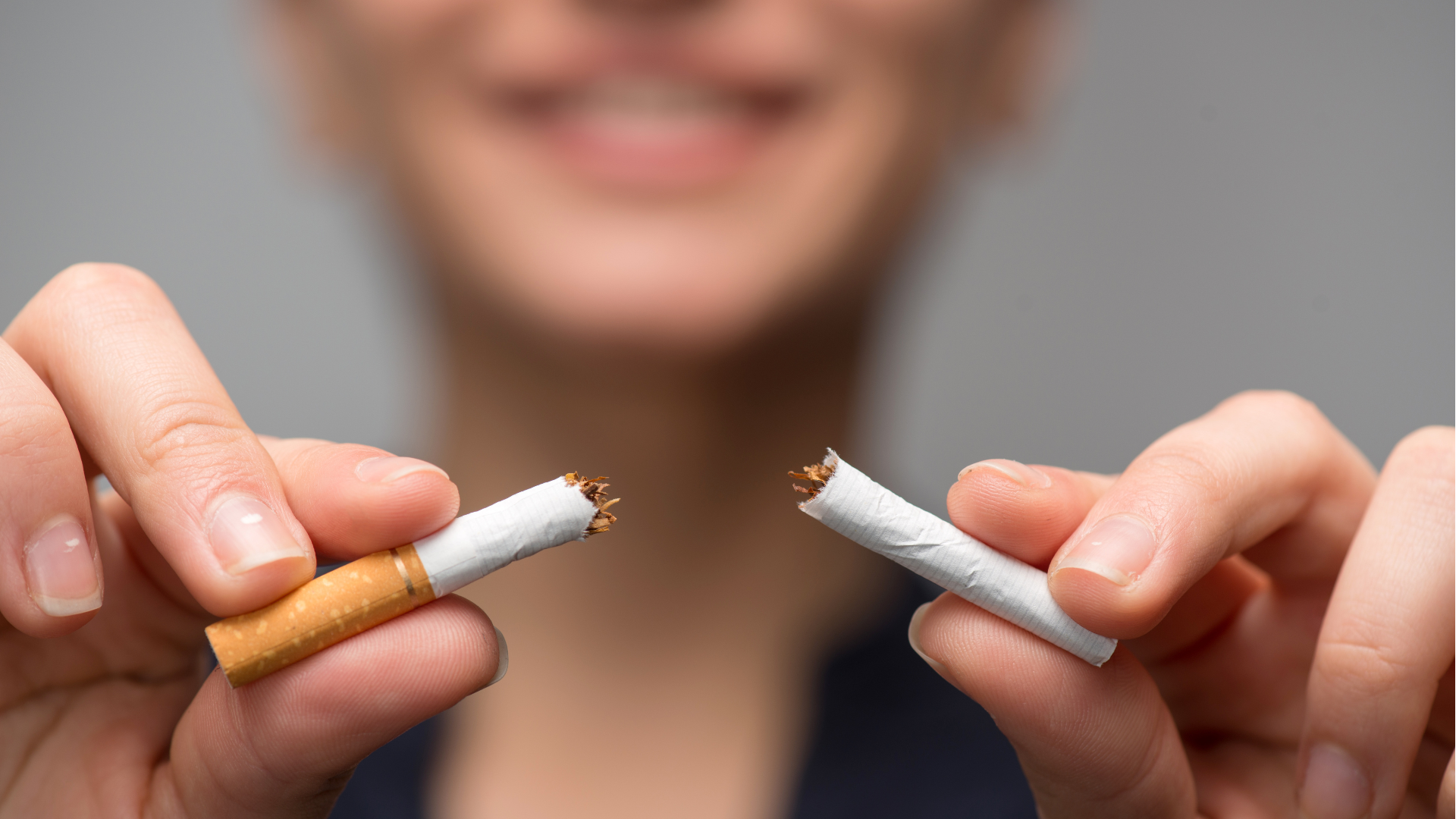 Deciding to stop using tobacco is one of the best possible things you can do for your oral health. We know it's not easy, and sometimes it takes a few tries before you succeed for good.
When you're ready to quit, your Voorhees dentists at Dental Arts of South Jersey are here for you. Whether you need additional support and motivation or gum therapy and a professional teeth whitening treatment, we're here. You'll find that our dentists are compassionate and empathetic, and they care deeply about your health and well-being.
If you're still on the fence and need a little extra motivation, we can help with that too. You're probably already well aware of how smoking affects your respiratory and circulatory systems. Unfortunately, it doesn't stop there. Smoking can also do serious damage to your oral health—and chewing tobacco is even worse.
Understanding the impact tobacco use has on the look and health of your smile is often the final turning point for anyone who is contemplating quitting.
How Does Tobacco Use Harm My Smile?
Bad Breath & Stains
One of the problems with smoking or chewing tobacco is that it immediately impacts your senses of taste and smell. That means that it's much harder for you to detect one of the earliest problems that tobacco use causes—bad breath. The chemicals in tobacco create deposits of sulfurous compounds in any pockets in your gums, such as around your teeth. These deposits have a strong and distinctive smell, often referred to as "smoker's breath." While you may not notice, other people will.
Tobacco also leaves dark-colored stains that discolor your smile. How dark your stains are depends a great deal on how frequently you use tobacco. These stains are difficult to remove with regular brushing and flossing and may require multiple professional cleanings or a professional teeth whitening treatment to bring them fully under control.
Gum Disease & Delayed Healing
Tobacco users are at double the risk of developing gum disease than nonsmokers. Gum disease is a chronic infection that leads to receding gums, loose teeth, and lost teeth. Bacteria attack the tissue and damage the roots of the teeth. Once gum tissue is lost, it can only be restored with periodontal surgery.
Tobacco use causes—and worsens—gum disease in two different ways. First, tobacco use promotes the development of bacteria, leading to infection. As the infection sets in and develops, pockets form around the teeth. These pockets trap irritants like plaque and the chemicals in tobacco, creating a cycle of irritation and worsening the infection. Second, tobacco contains several chemicals that inhibit the body's ability to heal itself, making it harder to fight the infection. Your ability to recover following dental procedures is also inhibited, making it harder for your dentist to provide appropriate treatment for gum disease or other dental issues that may occur.
Oral Cancer
The facts about tobacco use and oral cancer are sobering. Here's what you need to know:
If you smoke cigarettes, you are six times more likely to develop oral cancer.
If you chew tobacco, you are 50 times more likely to develop oral cancer.
Out of the nearly 55,000 U.S. adults who will develop oral cancer this year, 90 percent of them will be tobacco users.
We realize that these statistics are probably concerning, and while we aren't trying to scare you, we do want you to be fully aware of the significant risk of developing oral cancer for those who use tobacco.
While oral cancer can be treated if caught early, nearly 10,000 people die from oral cancer every year. Those who do survive may be permanently disfigured. We don't want that for any of our patients.
What Can I Do to Avoid These Oral Health Problems?
We know that quitting tobacco is much easier said than done, but we know you can do it. Remember—you've got us in your corner, cheering you on and providing you with the motivation and support to be successful. Once you stop using tobacco, the damage will stop and your risk for disease will drop over time.
We can help you with a reset. Typically, a thorough cleaning, gum disease therapy like scaling and root planing, and a professional teeth whitening treatment will help remove stains, treat gum disease, and give you the inspiration you need to stay tobacco-free. When you see how great your smile looks, it will be much easier to resist temptation.
As you remain tobacco-free, your gum health and ability to heal will begin to improve. We can help you along the way with regular treatment to keep the infection from coming back and provide you with extra support when you need it. Your risk of developing oral cancer will also decrease over time. It can take about five to ten years, but quitting tobacco will cut your risk for oral cancer by about half.
Have you already experienced oral health problems? Don't worry. As part of your tobacco-free smile makeover, we can look into options to repair any damage to your teeth or replace any missing teeth. Crowns, bridges, dentures, and other treatments are available to help you have a healthy, attractive smile you'll be proud to show off.
We'll continue to monitor your oral health at your regular twice-yearly checkups. We recommend oral cancer screenings for all our patients since your best chance for treating oral cancer is early detection.
Call Our Voorhees Dental Office Today
We're excited to help you break free from tobacco and restore your beautiful smile. Give us a call today to schedule a consultation with one of our excellent dentists and get the added support and motivation for success.