Posted under:
General
Posted on: May 28, 2021
Reasons and Remedies for Tooth Discoloration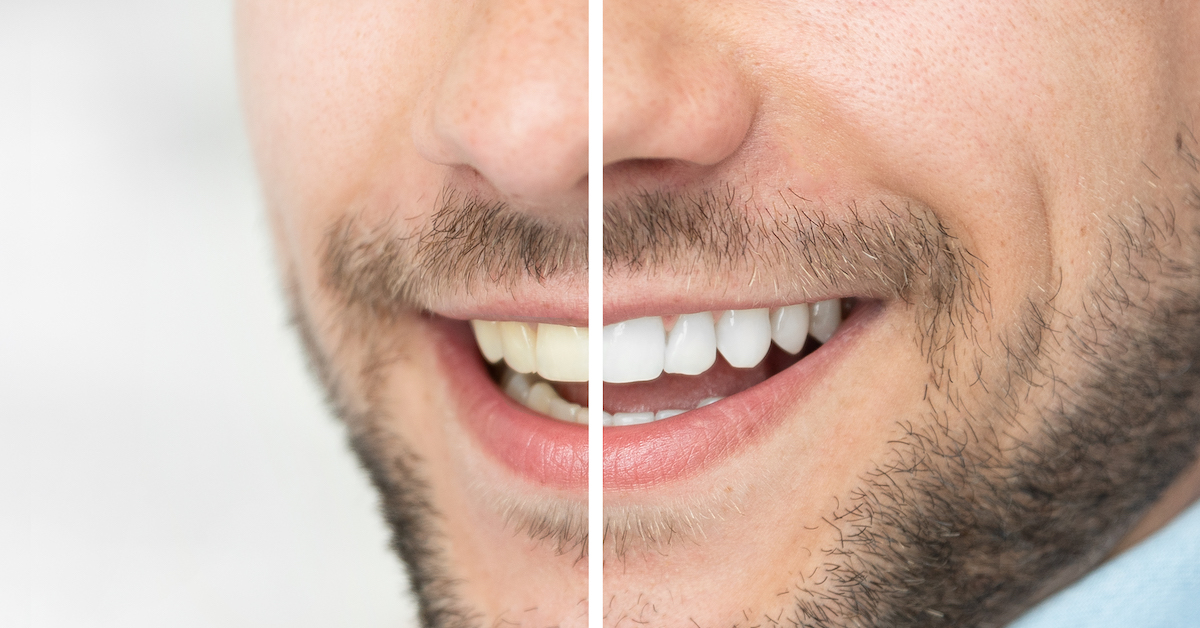 Yellowed or stained teeth can make you hesitant to smile. Fortunately, your dentist has solutions for you that can give you your confidence back to smile broadly. Tooth discoloration doesn't have to be a lifelong problem, keep reading to find out more.
Typical Causes of Teeth Discoloration
Understanding the cause of your tooth discoloration is the first step toward finding an effective treatment.
Aging – People's teeth get yellow as they age; there is no getting around it. Enamel, even though it is extremely hard, wears off the teeth over time, exposing the yellow dentin underneath. You can do things to help protect your tooth enamel, like avoiding vigorous brushing with a hard toothbrush, but how hard and strong your tooth enamel is depends on genetics.
Poor Dental Health– Plaque buildup and tartar make teeth look yellowish. Brush twice daily and floss to make your teeth look brighter. Regular dental cleanings will remove tartar (hardened plaque) which causes yellow stains at the gumline and between teeth.
Staining Foods and Beverages – If it stains white cloth, it will most likely stain your teeth. The most important thing to remember with these types of foods and beverages is that you can limit their impact by maintaining a proper oral hygiene routine.
Medications and Illnesses – Certain antihistamines, blood pressure drugs and more can stain teeth. Tetracycline-caused stains are also common.
Tobacco Use – The nicotine in tobacco will stain teeth. These are stubborn stains that do not respond to OTC products.
Trauma – Injuries and accidents can cause the affected teeth to darken, causing brown or gray stains.
Old Fillings – Old metal fillings can make teeth look gray.
The Foods That Can Stain Your Teeth Over Time
Foods and beverages that stain teeth typically include those that will also stain light-colored clothing or carpeting. However, other foods will stain teeth not because of their color but because of the damage they can do to the enamel of the teeth, like sugar-laden foods. Notable tooth staining foods include:
Coffee, dark tea, fruit juices, red wine
Sugary drinks like energy drinks, slushies and popsicles
Balsamic vinegar
Soy sauce
Tomato sauce
You don't have to avoid these foods and drinks altogether. Rinse your mouth with water or chew sugarless gum after consuming them if brushing isn't practical. If you have recently had an in-office teeth bleaching treatment, try to stay away from these foods for at least three days.
Foods That Will Help Keep Your Teeth Bright and White
Consuming certain foods can fight unsightly stains on your teeth, including:
Strawberries – They contain malic acid, a natural whitener.
Pineapples – Pineapples have an enzyme in them that can break up tooth stains.
Apples and Pears – These fruits scrub teeth as you chew them.
Raw Onions – Raw onions contain sulfur compounds that help fight plaque.
Nuts and Seeds – Nuts and seeds are natural teeth exfoliants.
Raw Celery and Carrots – These crunchy vegetables also scrub your teeth.
Is Smoking Making Your Teeth Yellow?
Tobacco products, like cigarettes, e-cigarettes, cigars, pipe tobacco and chewing tobacco, will inevitably stain your teeth. They will turn yellow the more you smoke and may eventually turn an unsightly brown if you are a heavy smoker or have been smoking for a long time.
What's the Truth About Tobacco and Teeth Staining?
While nicotine is colorless, it turns yellow when exposed to air. Our tooth enamel is porous, and it traps the nicotine, turning teeth yellow. Fortunately, the stains are on the enamel, meaning they will respond to teeth whitening procedures.
How Can I Lessen the Discoloration from Smoking?
To help keep stains at bay as a smoker, consider the following actions:
Keep your teeth as clean as possible at home with excellent dental hygiene.
Get your teeth professionally cleaned twice a year.
Use a straw when consuming beverages that stain teeth. Rinse or brush after consuming foods or drinks that stain teeth.
Brush after using tobacco products.
Tooth Whitening Options for Smokers
Smokers have several options to remove stains, depending on the severity of the stain. Mild staining can often be treated with OTC products, such as whitening strips and gels. Chronic smokers with severe staining will benefit from an in-office teeth whitening treatment from a dentist. Speak to a dentist about your expectations and he or she can advise you on the best option in your case.
What Can I Do to Prevent Tooth Discoloration?
You can help prevent tooth discoloration by keeping your teeth as clean as possible. Brush your teeth every morning and evening, and after eating foods that stain teeth. You will also need to brush and floss after smoking or using tobacco products as these are some of the worst staining agents for teeth. Floss at least once a day and use an antibacterial mouthwash. See your dentist twice a year for a professional teeth cleaning. By getting regular, professional dental cleanings you will be able to keep the staining to a minimum as the dentist will clean your teeth and remove the stains.
What Are the Ways I Get My Teeth White Again?
Your dentist can work with you to find the safest, most effective way to have whiter teeth. He or she will consider your oral health, the reason for the staining and the extent of the discoloration, Popular options include:
Teeth whitening toothpastes
Whitening strips
Whitening gels
Whitening rinses
OTC tray-based tooth whitening kits
Dentist-provided tray-based tooth whitening kits
Chairside Teeth Whitening Treatments
Certain stains do not respond to these teeth whitening methods. Ask your dentist about placing a veneer or crown over the tooth instead. Some individuals are not good candidates for teeth whitening either, so it is always advisable to ask your dentist about any treatment you're considering. People who are not suitable candidates may include individuals with tooth decay, receding gums and pre-existing sensitive teeth.
One of our dentists will work with you to find the cause of your tooth discoloration. He or she will help you find the best treatment to get your smile back to the way you want it.